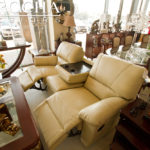 We Have two new Designs in our Genuine Leather lounge suites range, as well as a new colour.
Both designs are recliners so if you are interested in this feature, then this is a must see.
For more information come view them at our showroom now and place your orders before you lose out on this years latest collection.