Preserved roses vs. Fresh flowers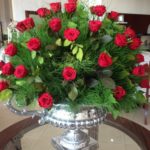 We have an exciting new range of Preserved roses in different arrangements and colours.
These beautiful arrangements can last over a year if correctly looked after in the right conditions.
It is something to consider that they are better where you are not having to spend time and money on fresh flowers every week and they always look amazing.
Come in to our store today to enquire about these beautiful arrangements today.